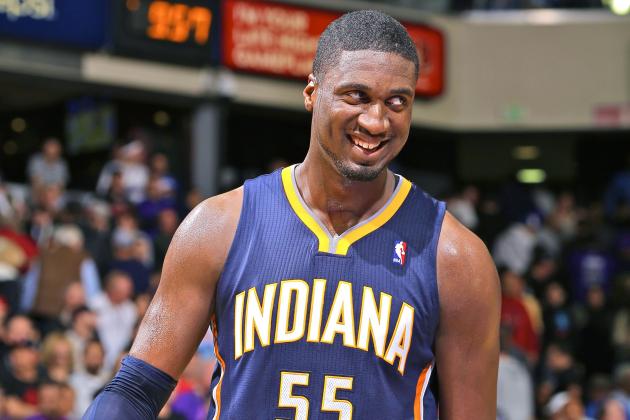 How much help does LeBron need? 'Maybe' being the best team in the league next year just isnt enough these days for Cleveland.
The Cleveland Cavaliers are rumored to be interested in landing either Roy Hibbert or Larry Sanders as a rim protector, potentially adding yet another weapon to a lineup that already boasts LeBron James, Kevin Love and Kyrie Irving.
Indeed, these days its good to be a Cavs fan, as since James made the announcement he planned to return there the organization has also added savvy vets Shawn Marion, Mike Miller and James Jones.
According to Ohio.com, the Cavs are now weighing the possibilities of using Brendan Haywoods $10.5 million contract and those of several other nonguaranteed players in a play for Hibbert, who reports are the Indiana Pacers are leery of paying $15.5 million to next season in the wake of Paul George almost certainly being sidelined for the entire season.
If the Hibbert talks should fizzle out, the Cavs are also reported to hold a genuine interest in the rugged Sanders. Coming off a season where he played in just 23 games for the Bucks due to torn ligament in his thumb, Sanders will be entering the first year of a four-year, $44 million deal. In his last full NBA season, Sanders ranked third in the league in blocks, behind Hibbert and the Thunders Serge Ibaka.
The Cleveland Cavaliers, by all means, are the beasts of the eastern conference.
Signing LeBron James, Shawn Marion, Mike Miller, and acquiring star big man Kevin Love just recently from Minnesota, Cleveland has orchestrated nicely this offseason, and is ready to lift the NBA hardware at seasons end.
Yes, having all of those players seems like a fantasy a video game come to life but is it possible that Cleveland could add more? One Roy Hibbert, perhaps?
According to Jason Lloyd of Ohio.coms Beacon Journal, Cleveland should covet Hibbert after the 2014-15 campaign, and further add to their paint presence, which is arguably the only part of the Cavs that some would consider they have weak depth at.
Hibbert, who has a player option for 2015-16 worth $15.5 million and two years left on his contract for $30 million, has allegedly been shopped on the down low by Indiana, and its possible there may be repercussions stemming from this speculation.
Warriors guard Klay Thompson, who was a rumored centerpiece in attempting to acquire Love at the beginning of the summer, wound up being pissed at the fact he was included in an apparent proposed package. Players sometimes dont forget about their organizations choice to potentially part ways via a trade, and could demand future consequences.
Hibbert had an abysmal 2013-14 campaign, after being a force for a number of years prior. Taking errant shots and turning the ball over on numerous occasions, Hibbert found himself benched at times, and the Pacers may look to retrieve what they can before he gets worse.
Of course, dealing him to Cleveland isnt in their best interest, given how formidable the Cavs would become, but if they included some key players, it could very well transpire. Cleveland has intriguing pieces like Tristan Thompson or Dion Waiters they could package for Hibberts services. So, its not a stretch to think a trade could come to fruition.
And, considering Paul George, the Pacers best player, will be sidelined for the upcoming season due to that horrific injury he suffered in a Team USA scrimmage, Indiana could find it necessary to start rebuilding, given the losses of him and Lance Stephenson.
For now, this is just a Cleveland should do this type move concocted by Lloyd. However, a very fascinating possibility.
For the rest of the NBAs sake, hopefully Hibbert goes elsewhere, or stays in Indiana.
In 81 regular-season games last season, Hibbert averaged 10.8 points, 6.6 rebounds, 1.1 assists, and 2.2 blocks-per-contest.
Not suprisingly, Cleveland is also interested in Emeka Okafor.
http://triangleoffense.com/news/clev...rim-protector/