Since we're 100 days from the actual start of the college football season, it's time for our annual Freaks List. We've been doing it for a decade, focusing on the top workout warriors or players who amaze their teammates and coaches with what they can do in the weight room, on the track or in some other "wow" aspect of athleticism.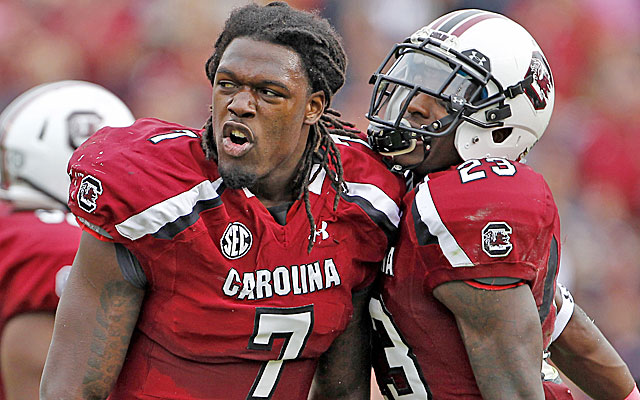 1. Jadeveon Clowney, South Carolina, DE: Like just about everything else that Jadeveon Clowney does athletically, his workout numbers are jaw-dropping but nothing (not even this) illustrates just how freakish the South Carolina DE is better than the Tendo.
The what?
The Tendo is an electronic power and speed analyzer (a speedometer of sorts) invented in Slovakia and has been around for about a decade in the U.S. strength and conditioning community.
"It's become one of the go-to tests in the strength industry," said Bert Sorin, owner and VP of Sorinex Exercise Equipment, the sole North American distributor of the Tendo. "It's changed the way a lot of people are training. Now you have a quality approach instead of just reps. You can see what kind of force is produced."
According to Sorin, a former All-American hammer thrower at South Carolina in the late 1990s, about 90 percent of top 25 football programs use the Tendo in some variety.
"It measures velocity and power in meters per second," explained Joe Connolly, the Gamecocks head football strength and conditioning coach. "It'll give you a power number, and it's expressed in watts. It takes into account body weight and different things. (Clowney) is in the 8000s and we're talking repetitive numbers in the 8500-range, and there isn't anybody on the team within 2000 of that.
Clowney has lived up to his billing as the top recruit in his class. "Clowney has a 8655w peak power reading. The closest number that a teammate has is a 6800w peak power reading. This differential is pretty vast. One major difference is JD can produce this kind of power repeatedly. Nobody else can do that."
Connolly's example: "Clowney first jump: 8655w. Jump two: 8653w. Jump three: 8650w. The rest of the word: Jump one: 6600w. Jump two: 6300w. Jump three: 6000w."
When Clowney arrived in Columbia two years ago as the nation's No. 1 recruit, he was a chiseled 6-foot-6, 238 pounder with explosiveness that had college recruiters raving. He was also "a recipe for disaster," said Connolly. "When he walked in the door he was a Ferrari engine in a Yugo. He was extremely explosive but he needed to stabilize a lot of his joints to help keep him injury free."
Since then Clowney has blossomed into a 275-pound guy who has many seeing him as the first pick in next year's NFL Draft and a viable Heisman Trophy candidate. "His first step was lightning, and that's just who is he and what God gave him," said Connolly. "The difference with him is that he's faster at 275 now. He's even more explosive and powerful at 275, which is frightening."
Clowney was tested by Gamecock coaches the week before South Carolina started spring ball. He vertical jumped 38 inches and clocked a 4.54 40 weighing 274 pounds. A year ago, he ran a 4.58 at 257.
Clowney is more violent than anybody I've ever seen. There is a violence to his first step. I've never seen anybody with more first-step quickness than he has. He's off the ball while the ball is still in the center's hands. His explosiveness is unparalleled."
Asked if it's realistic to think Clowney could show up next winter in Indy for the NFL Combine and vertical jump 40 inches while weighing 290, Connolly said, "There's no question that is within the realm of possibility.
2. Ra'Shede Hageman, Minnesota, DT: The 6-6, 312-pound converted tight end vertical jumped 36 inches this offseason when the Gophers tested him. More impressively, the former basketball standout (he used to play AAU ball against first-rounder Royce White) says he can still do a 360 dunk even though he's well over three bills. "But," Hageman adds, "it doesn't look as pretty as when I was 250."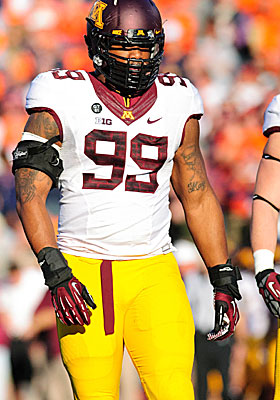 Ra'Shede Hageman, a former hoops standout, can still do a 360 slam dunk at 312 pounds. (USATSI) Ra'Shede Hageman, a former hoops standout, can still do a 360 slam dunk at 312 pounds. (USATSI) Hageman was a big recruit for former coach Tim Brewster. Then-Gophers hoops coach Tubby Smith once tried to get him to come out for the basketball team, Hageman says. But the big man opted to focus solely on football, where he has blossomed into one of the Big Ten's better D-linemen.
He's certainly the most athletic. Not only does he have the 36-inch vert, but he also has bench-pressed 465 pounds and clocked an electronically timed 10-yard sprint in 1.57 seconds. For comparison sake, no DT at this year's NFL Combine jumped higher than 33 inches, and Terron Armstead, the offensive tackle who ran the blazing 4.71 40 at the combine, did a 1.64 in his 10.
Hageman said watching the combine in February has "motivated me to be even get more serious in the weight room." His goals on the field for 2013: play with better pad level, play with more urgency off the ball and not take plays off.
3. Lache Seastrunk, Baylor, RB: Just being the Bears resident "Freak" is saying a lot. The Bears can go four-wide with a crew of receivers who each have been clocked faster than 4.4. One of those guys, 170-pound Tevin Reese, runs 4.32 and has a 45-inch vertical jump. In fact, Baylor deserves Freak Team status this season.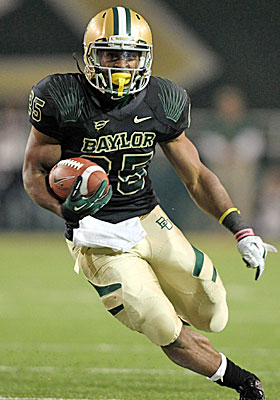 After hearing some of these super-fast 40 times, I asked Bears strength coach Kaz Kazadi if these are hand-timed 40s or timed electronically, which prompted one of the best quotes I've heard this year:
Lache Seastrunk averaged 9.1 yards per carry during Baylor's last four games in 2012. (USATSI) Lache Seastrunk averaged 9.1 yards per carry during Baylor's last four games in 2012. (USATSI) "They're all electronic," Kazadi said. "We don't hand-time anything. Hand times are for your mama. Your mama don't work here. We're not hand-timing anything around here. We encourage people to come watch our guys work. They take this seriously."
Seastrunk is a testament to that. He's up to 210 pounds after arriving in Waco at 195 a few years ago. "A lot of guys think their speed is predicated on not getting too heavy, instead of getting more power," said Kazadi. "We got to kind of wean 'em off of being too concerned about putting on pounds."
Seastrunk's vertical, which was an impressive 42.5 inches last winter, is now 44.2 inches. He also broad jumped 11-4 -- five inches more than in 2012. His 40 time: 4.36.
It's quite an improve from Seastrunk's days at Oregon when he ran a 4.63 electronic 40 and had a 34.5" vertical two winters ago.
"He's bought into training and taking care of himself," said Kazadi. "That's the No. 1 thing that we've seen with him. It's not just in his physical attributes that we've seen him really mature in. It's the accountability and the reliability. The eye-contact and his awareness --everything has improved. You know he understands what you're saying and he's paying attention."
The former five-star recruit may have been the most improved player in college football over the second half of last season. Seastrunk ran for 1,000 yards last season despite only gaining 95 yards in the Bears' first five games. But the one-time Oregon Duck was spectacular in Baylor's final four games of the season, when the Bears beat No. 1 Kansas State, Texas Tech, No. 23 Oklahoma State and No. 17 UCLA while Seastrunk ran for 637 yards on a 9.1-yard per carry average.
4. Taylor Lewan, Michigan, OT: A projected top-15 pick by many NFL Draft analysts if he had opted to leave Ann Arbor after last season, the towering left tackle returns this fall to anchor the Wolverines line. The 6-8, 309-pound Lewan, who's known for his both his nastiness and his nimble feet to rival coaches, would've put on quite a display had he went to Indy for the combine in February.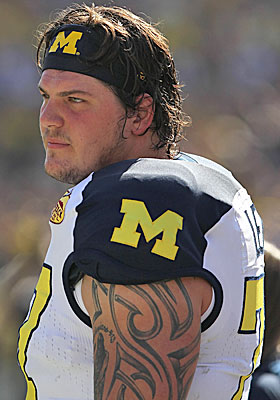 Taylor Lewan is a 6-8, 309-pound giant known for his nimble feet and a nasty streak. (USATSI) Taylor Lewan is a 6-8, 309-pound giant known for his nimble feet and a nasty streak. (USATSI) According to Wolverines strength coach Aaron Wellman, Lewan has clocked an electronically-timed 4.8 40-yard dash. The Arizona native has also, despite his long arms, bench pressed 275 pounds 21 times and also squats 550 pounds. In addition, this offseason Lewan improved his vertical jump to 29 inches, up from 26 last year.
"He's a great worker and a great leader," said Wellman. "We're lucky he decided to come back. He is so unselfish. He came back to win a Big Ten championship and leave a legacy here."
Wellman said Lewan often will call him or spend time in his office asking him all sorts of questions about training and diet. "The nutrition piece is big for him. Anything related to him becoming a better football player, he asks about."
5. Marqise Lee, USC, WR: The biggest bright spot on what was an otherwise nightmarish 2012 season for the Trojans, Lee isn't the nation's biggest receiver at 6 feet, 195 pounds, but he may be the most dynamic. Last year, he won the Biletnikoff Award after catching 118 passes for 1,721 yards and 14 TDs. Lee also averaged 29 yards per kick return and 8 yards a carry. There's a good chance he also may play defense this year too.
Lee's explosiveness is evidenced by his work with the USC track team as well. He's a 25-foot long jumper and he's also run on the sprint relay team.
"He's gotta be in the top five of the most freakish athletes I've ever been around," said USC WR coach Tee Martin, a former standout QB at Tennessee who also played in the NFL with the Pittsburgh Steelers. "He's in there with the Jamal Lewises, the Leonard Littles, the Donta Stallworths and Kordell Stewarts. The things that are so great about Marqise is he's got this great ability to contort his body and to jump and just explode and go from zero to 60 really fast. And the really scary part is he's still so young and is working so hard to get better."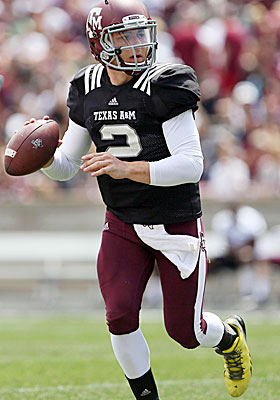 6. Johnny Manziel, Texas A&M, QB: The guy who became the first freshman to ever win the Heisman Trophy has shown he's quite the all-around athlete as he continues his whirlwind bucket list offseason. Just in the past month, Manziel's broken 80 at Pebble Beach and homered in BP in a major league ballpark when he visited the San Diego Padres. Friends say the 6-footer is also capable of throwing down some eye-catching dunks on the basketball court as well. Oh yeah, and he also can do stuff like this too.
Johnny Manziel may check in at around 6 feet tall, but his huge hands are a huge plus. (USATSI) Johnny Manziel may check in at around 6 feet tall, but his huge hands are a huge plus. (USATSI) The real reason why he cracks the Top 10 on the Freaks List is for something else, though. At first glance, Manziel looks rather ordinary at 6-0, 210, but coaches say in addition to his preternatural wheels, the Aggies star has huge hands, which are a big plus for any QB, especially a shorter one. A&M coach Kevin Sumlin said Manziel's oversized mitts remind him of another play-making 6-foot QB on a team he coached back in his Purdue days -- Drew Brees, who apparently has thumbs the size of croissants.
"Having those big hands not only helps tote the ball in traffic, but he can basically go all through his motion and still pull the ball back," noted George Whitfield, a private QB coach who helps train Manziel. Whitfield also has worked with some huge NFL quarterbacks, Ben Roethlisberger, Cam Newton and Andrew Luck. All three of those QBs have size 14 shoes. Manziel wears 15s.
7. Dri Archer, Kent State, RB-KR: You might as well call Archer Mr. MACtion. The 5-8, 173-pound Archer is the league's most exciting player and may be the quickest man in college football. Despite his diminutive frame, Archer still ran for 1,429 yards and 16 TDs, with a 9-yard average per carry. In eight games Archer had at least one run of 43 yards or longer. KSU strength coach Antoine Sharpe says Archer certainly backs up that home-run style when he clocked electronically a 4.29 40-yard dash.
8. Benardrick McKinney, Mississippi State, LB: One of the breakout stars of 2012 in the SEC, the 6-5 McKinney made 102 tackles last season to earn a spot on the Freshman All-SEC team. McKinney, another one of the unheralded recruits who has blossomed in the Dan Mullen era, arrived at MSU two years ago as a 216-pound former QB. Now he's a 240-pounder with a 41.5-inch vertical, up 3.5 inches from last year. He also can do 30 pull-ups, almost double his total from a year ago, according to Bulldogs strength coach Matt Balis.
9. Chris Borland, Wisconsin, LB: The 5-11, 245-pound linebacker -- the 2009 Big Ten Freshman of the Year -- has had a knack for turning heads from the days even before he was a Badger. In fact, former Wisconsin coach Bret Bielema once told me he remembered noticing Borland in one of the Badgers camps. "I'm watching him and he had about five interceptions in about an hour and half of 7-on-7," said Bielema.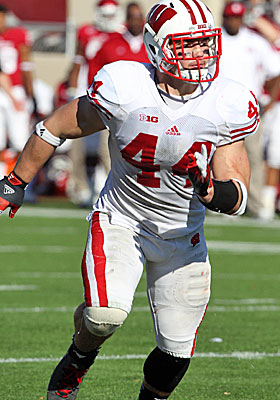 Badgers' backer Chris Borland can rip off a standing back flip at will. (USATSI) Badgers' backer Chris Borland can rip off a standing back flip at will. (USATSI) Borland does a standstill box jump of 51 inches, said strength coach Evan Simon. "He can also do a standing back flip at will and one time landed one in the splits for fun. He is as solid as two rocks and one of the hardest workers you'll find."
Not only that, Badger insiders say Borland has also been known to kick 40-yard field goals, practice catching balls either with one hand or behind his back out of the jugs gun and can throw the ball about 50 yards on a line.
10. Ryan Carrethers, Arkansas State, DT: A 2012 First Team All-Sun Belt Conference player, Carrethers certainly seems like he could be a force at any league in college football. The redshirt senior, who will be playing for his fourth head coach this fall, isn't just some sloppy, bad-body guy. His 16 percent body fat for a guy measuring in at 6-2, 332 is impressive. As are his 400-pound power clean, his 664-pound squat and 400-pound incline bench press.
Continue Reading Freaks Lists
Source: CBSSports.com