:cry4: :aaronmad: :caesarcomeatmebro:
Elephant who 'cried' for freedom could be chained again
Raju, the elephant who "cried" when he was rescued by animal rights campaigners, may be returned to the owners who abused him
Quote:
---

Raju could soon be clapped in irons once again Photo: Press People


When wildlife campaigners rescued Raju, a starving elderly elephant, from his chains earlier this year, video footage and photographs of him "crying" at his release moved millions around the world.

But he could soon be clapped in irons once again after the owners who mistreated him filed a legal petition for his return as their lawful property.

Elephants are protected by law in India, but several thousand are still kept by unscrupulous owners and abused by their "mahouts" – handlers.

Video footage of Raju's release showed his legs being unshackled from heavy chains, with spikes that had pierced his thick hide. Long spear-like spikes were recovered from his enclosure – which despite being illegal are widely used in India to train and control working elephants.

Many of the elephants are chained outside Hindu temples, or hired out for rides at children's parties or at lavish weddings.
---
Quote:
---
Several hundred are kept at Jaipur's Amber Fort where they ferry tourists up its steep paths in desert conditions, and are hired for elephant polo matches. Campaigners say they should not be kept in captivity or in Northern India where the arid conditions and searing roads amount to cruel conditions – they need the wet grasslands and rainforests of India's south to thrive.

Kartick Satyanarayan, co-founder of Wildlife SOS, the group which rescued Raju, said it would contest the owners' claim on the grounds of their cruelty.

"We are going to fight it," he said.

"The animal is on the path of recovery and is doing fine after being rescued from slavery. He was on the verge of death when he was rescued and since then we have invested a lot to rehabilitate him.

"We have a foolproof case against the self-proclaimed owner including that he has no ownership documents. Moreover, the treatment the elephant received was against the law. We will put these facts before the court and pray for Raju's freedom."
---
http://www.telegraph.co.uk/news/worl...ned-again.html
The first court hearing is in Allahabad on Thursday. To donate to Raju's Appeal see www.wildlifesos.org.
Heart-warming moment Alzheimer's patient remembers her daughter
Kelly Gunderson's emotional video has been watched almost one million times on YouTube
Quote:
---
A US woman has captured the touching moment her elderly mother with Alzheimer's recognised who she was.

Kelly Gunderson, from Georgia, was recording a chat with her 87-year-old mother as they lay on a bed.

"Do you know who I am?" she asks.

Much to her surprise, her mother responds: "Kelly... well, I love Kelly and didn't I name you Kelly?"

Ms Gunderson later explained: "God gave me a moment with my mother remembering who I was. Even if just for a moment.
---
Quote:
---
"Plus I am an identical twin, which makes it even more special."

The clip, enitlted God's Gift, has been viewed almost one million times on YouTube.

"This is one of the most beautiful videos I've ever seen. I'm literally in tears right now," commented one viewer.

"There is a family history of Alzheimer's Disease in my family and it's so hard to watch someone you love go through it."
---
http://www.telegraph.co.uk/news/news...-daughter.html
Dog Attacked and Left 'Hog-Tied' in Norwich Park
Quote:
---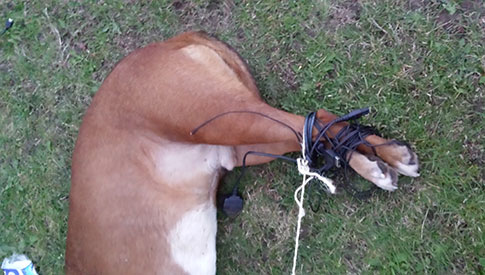 The dog was found abandoned at Sloughbottom Park in Norwich(Norfolk Police)

Police in Norwich are appealing for information following the discovery of a dog whose legs were found tied together with electrical cabling.

Norfolk Police said the brown and white boxer cross dog was found by a member of the public abandoned at Sloughbottom Park in Norwich in the early hours of Saturday morning (30 August).

The dog, who has been given the nickname Spencer, was found with his legs all tied together and his collar bound up with string and household electrical cable. He had then been tied to a post with cabling around his neck, leaving him unable to stand up or move.

Police said Spencer was not seriously hurt, but was left "traumatised" by the incident.

PC Craig Bidwell is now appealing for any witnesses who may have seen the person responsible for tying up the animal.

He said: "Attacking a dog in this way is completely unacceptable and I would urge anyone who has information about the incident to contact me. Officers will be working with Inspectors from the RSPCA to find the person responsible and take action."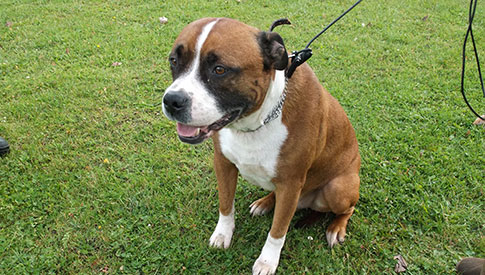 'Spencer' went on to make a full recovery(Norfolk Police)

RSPCA inspector Laura Sayer said: "Poor Spencer was traumatised from this horrible ordeal but luckily not hurt.

"He is a lovely dog, and has clearly been well looked after, so it might even be that there is a loving owner out there missing him. We urge anyone with any information to come forward.

"We are very grateful to this passing member of the public and to the police for rescuing him, there is no way he would have been able to escape the tangle of ropes which held him on his own - apparently he was completely hog-tied."

Police said Spencer is thought to be around four years old. He was not micro chipped and did not have any identification tags.
---
http://www.ibtimes.co.uk/dog-attacke...h-park-1463667