Nixie: Tiny Flying Drone Camera Launches From Wrist to Take Selfies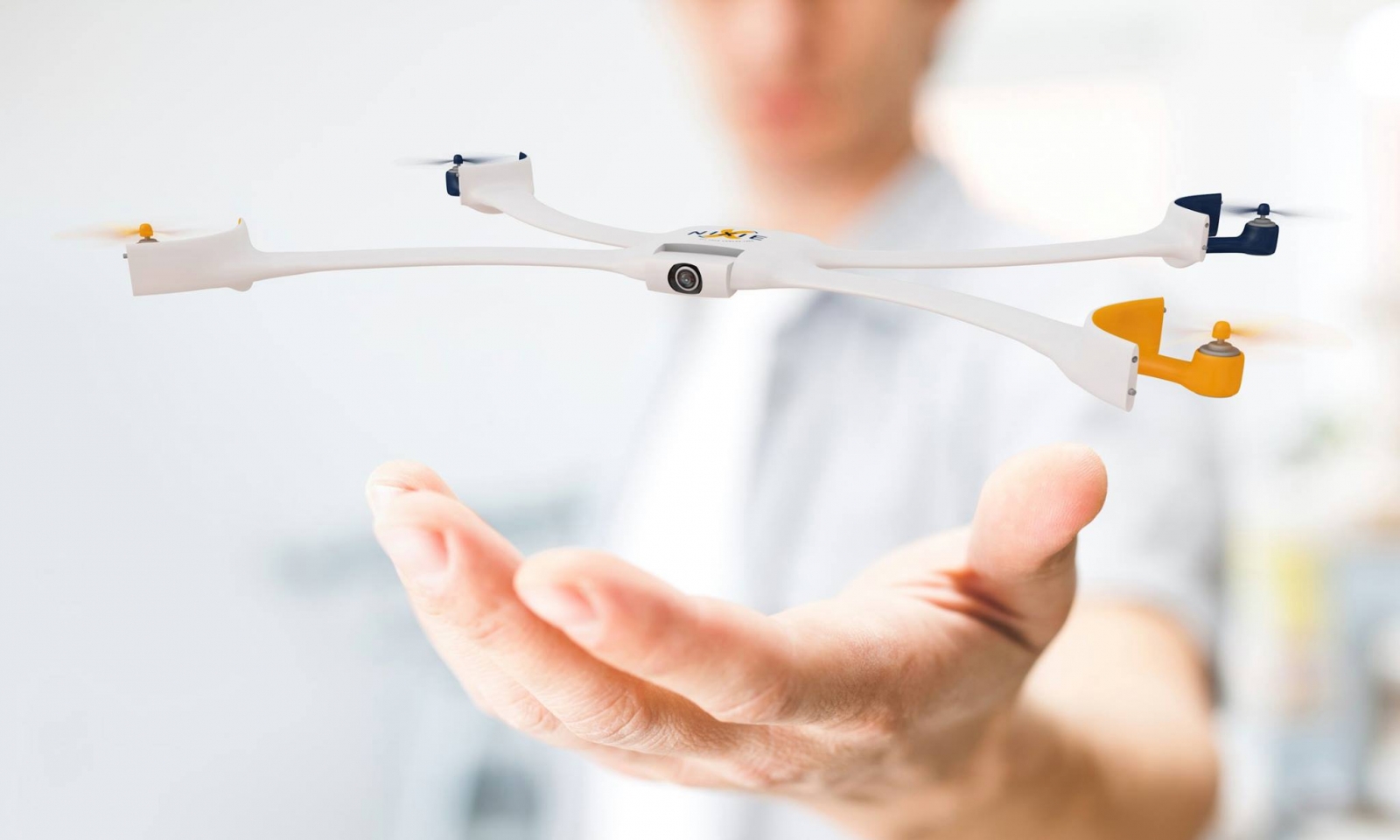 Nixie - a wearable camera on a wristband that transforms into a tiny quadcopter flying drone(Nixie)
By Mary-Ann Russon
Physics researchers at Stanford University are developing a wearable tech wristband that turns into a tiny flying drone that launches from a user's wrist to take selfies of the wearer.

Nixie is a finalist in Intel's Make It Wearable Challenge, a competition to encourage inventors and entrepreneurs to push the boundaries of wearable technology.

The researchers must now create a working prototype of their invention with help from industry mentors, in order to win a grand prize of $500,000 (ÂŁ308,000).

The Nixie was originally designed as a pair of glasses, but the team realised it would be more useful as a wristband. The idea is that the wearer can press a button which turns the wristband into a tiny quadcopter drone that launches immediately from the person's wrist.
The drone flies into the air, orients itself and focuses to take a photograph of the user or anything else they want, with a range of settings that include 360-degree panorama shots and continuous movies, so that users can start shooting instantly and keep going.

"You should be able, with a gesture, to tell the quadcopter to unfold. It will take off from your wrist and it knows where you are, so it will turn around, take a picture of you, [then] it comes back, you can catch it from the air and put it back on your wrist," says Nixie team leader Christoph Kohstall in a video about the project.

The idea is for the flying drone wristband to be powered by Intel Edison, a tiny computer that is currently the size of an SD card, which is being offered by the chip manufacturer as a development system for wearable devices.
The most recent version of the Edison board includes a 22nm Silvermont dual core Intel Atom "Tangier" CPU, with 1GB of RAM integrated, as well as controllers for Wi-Fi, Bluetooth4, and USB.

The winner of the Make It Wearable Challenge will be announced on 3 November. The other nine finalist projects are using wearable tech for cooking, to induce lucid dreams, allow gamers to feel touch over the internet, and smart glasses that can read your mind.
http://www.ibtimes.co.uk/nixie-tiny-...elfies-1467682
Flying Drones Capture Dramatic Scale of Hong Kong 'Occupy Central' Protests on Video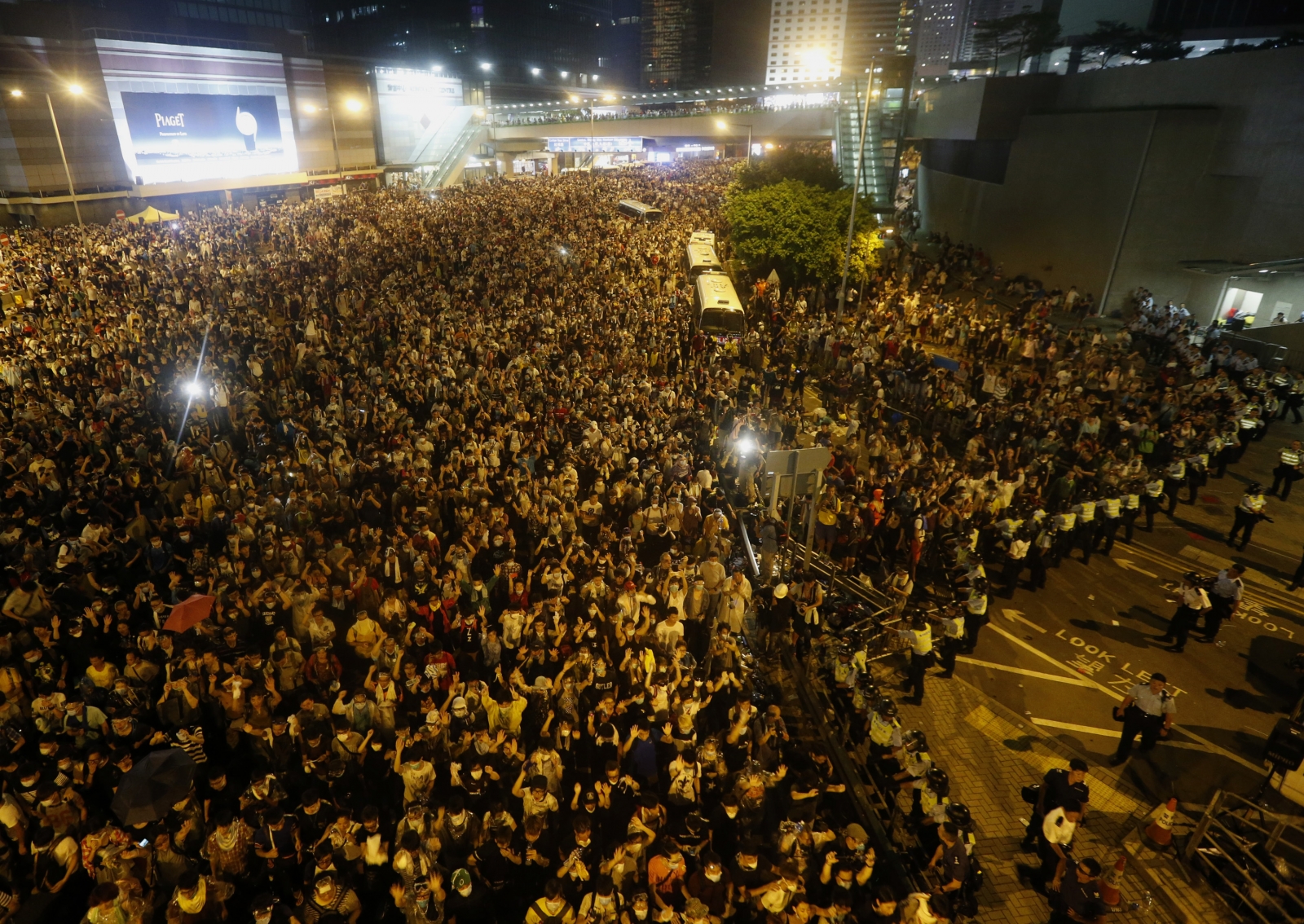 Overhead photos show the vast scale of 6 million protesters bringing downtown Hong Kong to a standstill on Sunday, 29 August(Reuters)
By Mary-Ann Russon
While the use of flying drones, particularly to film video footage from the air is only permitted by special permission from aviation authorities in the US and UK, in many parts of the world, legislation about this technology is not yet considered a top priority.

As such, drone operators are able to get away with using flying unmanned aerial vehicles (UAV) in urban areas like Hong Kong, where flying drones have been used to capture the scale of the pro-democracy protests that brought the city to a standstill on Sunday, despite tear gas intervention by police.

The four-minute-long video clip shows six million protesters swarming over empty roads and highways, attending impromptu rallies in downtown Hong Kong calling for the present Chief Executive Leung Chun-ying to step down.
The protesters stayed in the streets throughout the night, many choosing to sleep on the roads, as part of the "Occupy Central" campaign.

The footage has been uploaded to HK Apple Daily, a YouTube channel live-broadcasting rallies and protests from the streets.

Another video report, put together using drone footage, shows protesters fighting against the police and using umbrellas to shield themselves from tear gas attacks. HK Apple Daily also claims that the police used AR15 semi-automatic rifles to "intimidate peaceful protesters".

The protests have come about due to concerns that the Chinese government in Beijing is seeking to interfere in the Hong Kong Chief Executive elections in 2017, rejecting several locally-nominated candidates.

Over 13,000 university students have been boycotting classes for one week since last Monday to protest China's ruling that election candidates must be vetted and approved by a nominating committee in mainland China.

The Chinese government has blocked photo-sharing app Instagram in mainland China to prevent citizens from being able to search for news about the Hong Kong protests, such as to search for "Hong Kong teargas".
http://www.ibtimes.co.uk/flying-dron...-video-1467653
Live Stream